I'm thrilled to announce the launch of Soul CEO! It has been such an incredible journey, watching my vision come to life from my mastermind to this podcast. And I know it's going to be equally amazing to watch your journey and growth as the podcast progresses!
A little bit about me: I am a Life & Business Coach, former college athlete, and accounting major who discovered the magic of coaching quite by accident, but completely serendipitously. After experiencing major shifts in my own life, from manifesting a dream relationship to building a quarter-million-dollar business in 18 months, I knew I needed to share my experiences and everything I learned along the way with others, to help women believe that anything is possible!
To be clear, this podcast is not just about business, although I will be giving you tons of great tips that can help you in whatever work you do in the world, whether that's as an entrepreneur or employee. This show is about what it takes to have it all. It's about how to achieve your wildest dreams in every area of your life by becoming the woman you want to be now!
To celebrate the launch of the podcast, I'll be giving away free coaching sessions to some of my lucky listeners. Keep on reading to find out how you can enter!
In each episode of Soul CEO, I'll give you all I've got. I'm going to show up the way I want to inspire you to show up to every aspect of your life… I want you to get as much value from the show as I can possibly offer! Get to know me and how this show can help you understand that anything IS possible and you CAN have it all… right now!
You can check out the first episodes here:
Ep #1: The Belief that Will Cost You the Most in Life and Business. Who the podcast is for and a little bit about me, plus the foundation of everything I teach my clients about how to be the CEO of their soul: The belief that will cost you the most in your life and business.
Ep #2: Get What You Came For. A concept that is incredibly empowering and pertains to every area of our lives! It puts ownership and power over our results squarely on us, which has a tremendous impact on how we handle every circumstance beyond our control. It really is that powerful, so don't miss this episode!
Ep #3: Jealousy Vs Inspiration. On this episode, I explain what being jealous vs inspired means and how paying attention to your jealousy can provide great insight into what you believe is possible for you. Discover how questioning the things you don't think you can change will open you up to even bigger dreams than you could imagine now.
Here's what you should do right now to sign up for your weekly dose of Soul CEO inspiration:
Subscribing in iTunes
To subscribe in iTunes, visit the Soul CEO podcast page and click on the blue "View in iTunes" button.

This will launch iTunes on your computer and bring up the podcast.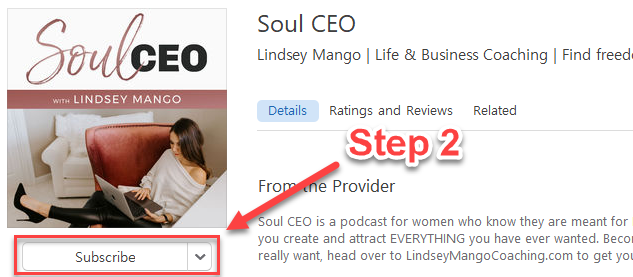 Click on the "Subscribe" button and you're all set!
Review the Podcast and Win
I am super excited to announce that I will be choosing from listeners who review the podcast for a FREE coaching session with me! The session will be recorded and aired as a bonus episode on the podcast! I'll be choosing more than one winner, so please enter even if you've already heard a bonus episode.
How to Win: Once you've listened to an episode or two, click on the "Ratings and Reviews" link on the Soul CEO podcast page in iTunes to leave a review.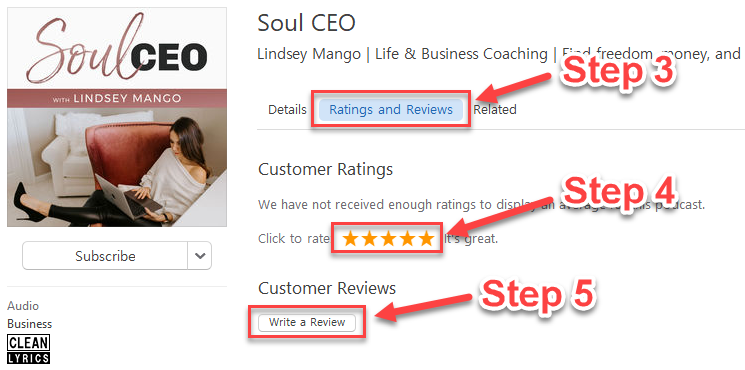 Any review qualifies you to win: I want you to be honest and really tell me what you think and how I can help you better.
Unfortunately, iTunes doesn't release contact information for reviewers so please email a screenshot of your review to Steph at elevateyourbusiness100@gmail.com along with what you would like to be coached on for your official entry.
If you haven't yet, make sure to subscribe in iTunes now. Thanks for listening!
You can also find our show on Stitcher and Spotify.
Trackbacks/Pingbacks
Ep #4: Committing, No Matter What | Lindsey Mango Coaching – […] session with me, recorded and aired on the podcast as a bonus episode, follow the instructions HERE to rate…