Boss Babes: How to Design Your Dream Home Office
by Lindsey Mango Coaching | Blog
So I am an expert at helping women have it ALL! The business, the freedom, the fulfillment, the love life, the health, the relationships and everything in between!

I am no designer, but when I say aesthetics matter to me, it's no joke! 😉 Feeling good in my space wherever it is, is important to me, ESPECIALLY my office space!! I just moved to California in my dream home, but don't worry if you're not here yet. I've created dream offices in my little 900 square foot house, my fiancé's basement, and now in the space I always dreamed of!

Because let's be real! When I dreamed of having the business of my dreams doing my boss lady things, I definitely was picturing the office I would step into every day to do what I loved!

I knew my office had to match the vibe and vision I had! It was the cherry on top of the beautiful life and business I have created and helped others create!

So let's get to business 😉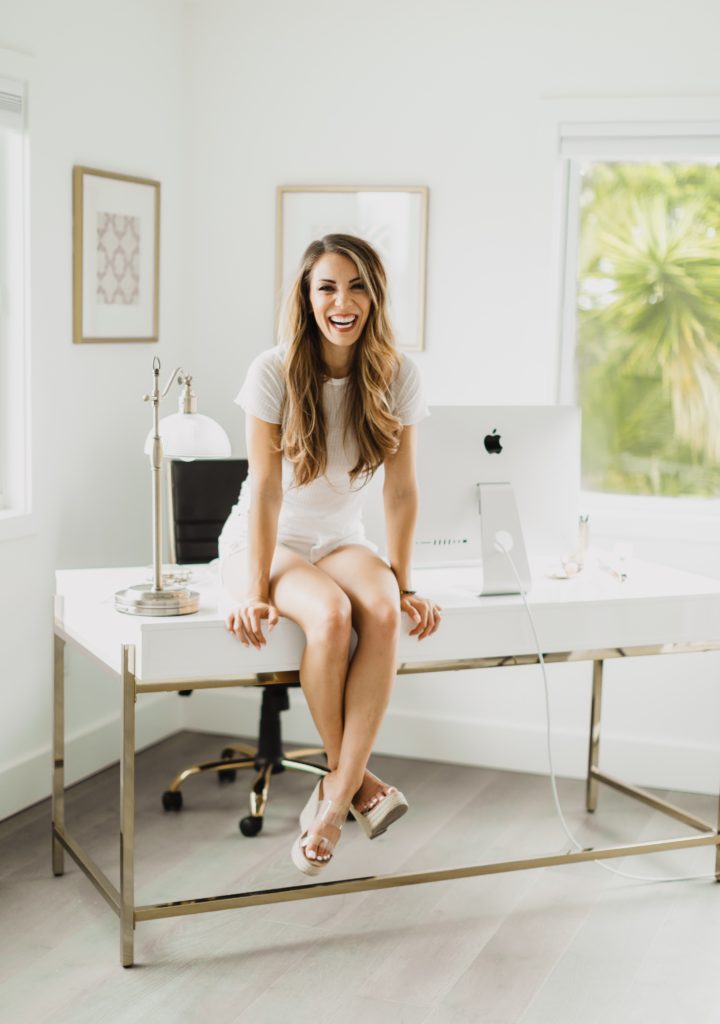 How do you create the dream office space you've been dreaming of?!

Here are my top tips and then of course I'll show you around my dream office and share the juicy deets on where I splurged and saved and how I decided to put things together!

Step 1) Dream offices can be built ANYWHERE! : I find it important to say, even if you are yet to be in the home or have the space to create the office you've always dreamed of, it's still 100% possible to create a space you LOVE, in fact I recommend you create your own boss lady space no matter how tight the quarters are!!

Step 2) Get a Clear Vision: Vision is SO important when it comes to creating a life that has it ALL and an office that has the boss lady, money making vibes you want! I want you to close your eyes and envision you're doing the damn thing, you wake up, grab your fave mug with a hot cup of coffee, and you step into your office space! What's do you feel when you step into it? What do you see? What IS definitely there? What is definitely NOT there? What colors do you see? You go to sit down at your desk, what's that like? How does your desk space look? I want you to imagine your looking at yourself sitting in this space and take more of anything you see and feel? Now I want you to write out what you see! No LIMITS, just dream vision!

Step 3) Pick the space: Now you may open your eyes to your house covered in toys or dog hair or messes, you may not have a spare room for this office…. it's okay! You still can make your dream office happen! I want you to walk around the house or apartment or your space without thinking too much and decide where you FEEL the most aligned, what feels like your vision did, or what can you build into a space like it! If you feel pulled to a spot, don't question it! Then I want you to DECIDE and declare, "this is the space my dream office and dream business will grow, let's do this".

Step 4) Set the Vibe and Create Your Space: So you've got the spot, now I want you to spend time clearing away anything in the space that doesn't fit the vibe you are looking for. I want you to sit where you plan to sit at your desk or in your space and close your eyes. Soak up the space. Feel the feels of you doing your thing. Feel the vibes of signing clients. Feel the impact of your work and the excitement of all the amazing things! Set the intention of the magical things that will happen in this space and open your eyes.

Step 5) Love what is, and buy what isn't: Now I want you to go back to the feelings you experienced when you saw yourself sitting in this space, and I want you to walk around your house and grab any decor you already have that matches this vibe! What can you re-use? What do you love and want in this space? What things give you the good vibes?

Now I want you to think about the MOST important things for this space that you need to get. What do you want to splurge on? My first BIG splurge was my desk, I LOVE it. I couldn't find my exact desk. I think it was $800 and I love how big it is, but here's a link to a more affordable and similar looking desk. What things can you go without? What things can you not go without? Also throw in a cute little journal you can use that fits the vibe of your office space! Have fun with this, don't put pressure on it and don't settle for anything less than what you want just to fill space. The right pieces will show up.


Step 6) Go do your BOSS things: Take your pieces and a glass of champagne and get to work putting it together! Bring this dream vision to life. Have fun with it! And then when you're done, I want you to sit down, soak up the moment and remember, THIS is where it all began!

Here are some links to some of my favorite things in my office!
Ghost Chairs link: https://amzn.to/2XzIiJu
Office Desk Chair: https://amzn.to/2J4cy62
Cabinet: From Pier One
Gold Wall art: From Hobby Lobby
Chanel and Prada Wall art: Z Gallerie
Mirror: Homegoods
Bench: Overstock